Do you have a lot of trim work to do? If so, you need a good pin nailer. Today we are going to be taking a look at the Ryobi 18-Volt One+ AirStrike Pin Nailer. This is a great option for anyone looking for an affordable pin nailer. It is part of the Ryobi One+ system, which means that it can be used with other Ryobi tools that you may have. Let's take a closer look at this tool and see what it has to offer!
About Ryobi Company
Ryobi is a Japanese company that manufactures and sells power tools. It is one of the world's largest producers of power tools.
The company was founded in 1943 and its headquarters are located in Tokyo, Japan. Ryobi also has subsidiaries in Australia, China, Europe, North America, and South America.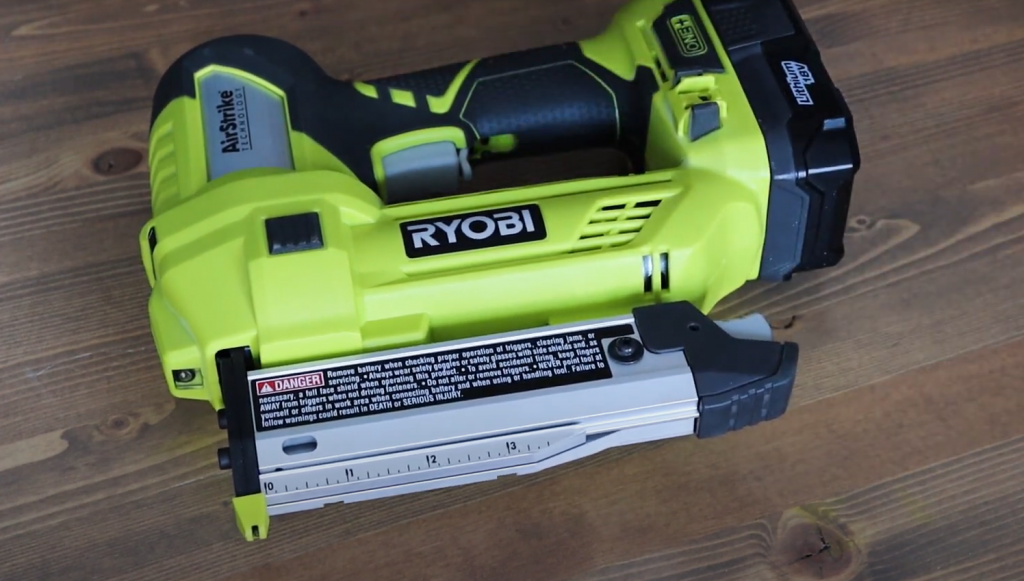 In the United States, Ryobi power tools are sold exclusively at The Home Depot. Moreover, Ryobi is also sold online on various websites such as Amazon.com.
Ryobi tools are known for their affordability and value. In addition to power tools, Ryobi also manufactures and sells a wide variety of outdoor power equipment such as generators, pressure washers, and lawn mowers.
Despite their affordable price, Ryobi tools are known for their durability and quality. In fact, many professional contractors and woodworkers use Ryobi tools on a daily basis.
About Product
The Ryobi 18-Volt One+ AirStrike Pin Nailer is a battery-operated tool that can be used for a variety of tasks around the home, office, or workshop. It is designed to be lightweight and portable, making it easy to carry from one job to the next.
The AirStrike technology means that this nailer does not require an air compressor, making it even more convenient to use. The tool is also equipped with a safety trigger to prevent accidental firing.
The Ryobi 18-Volt One+ AirStrike Pin Nailer comes with a variety of features that make it a versatile tool for any number of applications.
It uses an 18-volt battery, making it compatible with all Ryobi One+ batteries.
Unfortunately, the battery and charger are not included with the tool.
But it comes with a 3-year limited warranty. It means that you can be sure of the quality of this product.
Key Features of Ryobi P318 18-Volt One+ AirStrike Pin Nailer
You have discovered some information about Ryobi company and the tool itself, so let's get to know its features better!
Features & Specifications
P318 is very versatile as it can be used for a lot of different applications. For example, you can use it for nail pictures to the wall or for attaching molding trim.
It has a depth adjustment knob that allows you to control the depth of each nail. This is a very important feature as you don't want to nail too deep and damage the wall or whatever you're nailing into.
The P318 also has a tool-free jam release that allows you to quickly and easily clear any jams that might occur.
Another nice feature of this nailer is the LED light that illuminates the work area. This is very helpful in low-light conditions. For example, if you're working in a dark corner, the LED light will help you see what you're doing.
The P318 uses 18-volt batteries which are widely available and very easy to find. You can also use Ryobi's One+ battery system which means that you can use any of Ryobi's 18-volt batteries with this nailer.
The double-action trigger is another nice feature as it allows for precise nailing. Just squeeze the trigger once and the nailer will drive a nail into the surface.
Included non-marring pads help to protect the surface that you're working on.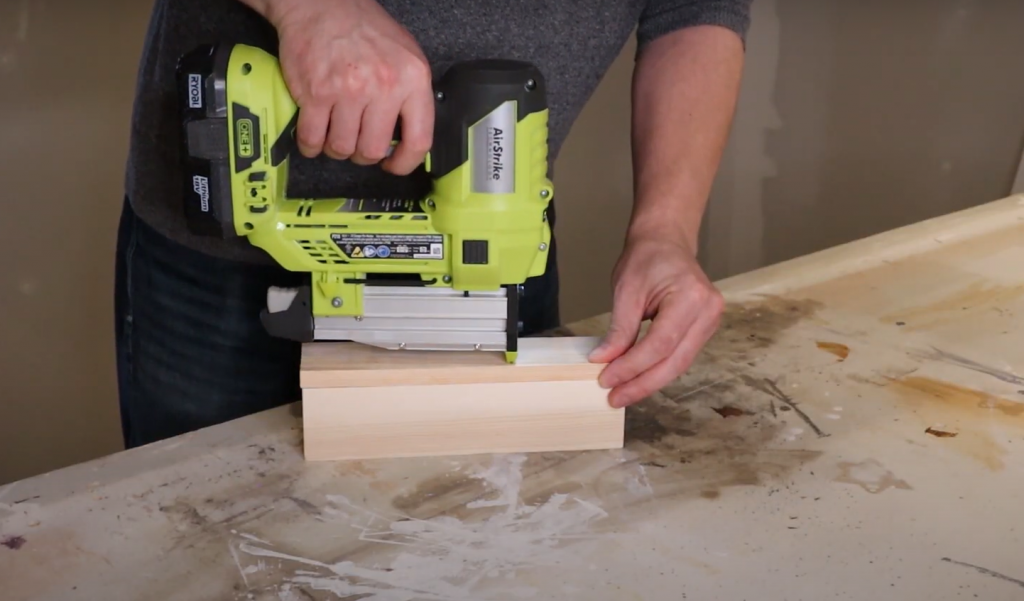 One more thing I want to mention is that this nailer comes with a belt hook. This is very handy as it allows you to keep the nailer close at hand when you're working.
The Ryobi P318 is a very versatile and user-friendly pin nailer. It's perfect for a variety of applications and comes with some great features.
Build quality
The next thing you'll notice is how solid this tool feels. It's not a toy, it's built like a tank. The all-metal body feels very sturdy and well put together.
The tool is pretty lightweight too, which is always a plus. It only weighs about four pounds without a battery, so it's not going to wear you out if you have to use it for a long time. With a battery, it's only about five and a half pounds. [1]
The tool is also pretty small. It's only about eleven inches long, so it's easy to maneuver in tight spaces. And the compact size means that it's not going to take up a lot of room in your tool bag.
It is also very accurate. This is important because you don't want to be constantly readjusting the tool or your projects.
The internals is just as impressive. The driver assembly is all metal and very well put together. You can tell that a lot of thought went into the design of this tool.
The only thing I don't like about the build quality is the plastic battery door. It feels a little flimsy and I'm worried that it might break if I drop the tool. Other than that, though, I'm very impressed with the build quality of this tool.
The construction is sturdy, the materials are high quality, and it's clear that Ryobi put a lot of thought into the design of this tool.
Value for Money
The last thing you want to do is spend a lot of money on a tool that you'll only use occasionally.
When it comes to value for money, the Ryobi 18-Volt One+ AirStrike Nailer is a great option. P318 stays somewhere in the middle price-wise. It's not the cheapest option, but it's also not the most expensive.
You can find this model for around $170 without a battery and charger. For that price, you're getting a lot of features and a decent amount of power. However, that also means that you already have a Ryobi 18V battery and charger to use this tool.
If you don't have any other Ryobi tools, then this might not be the best option for you. You can find similar models from other brands that will come with a battery and charger included for around the same price.
Ryobi 18-Volt One+ AirStrike Nailer offers many features and good value for the money. If you already have other Ryobi tools, then this is a good option to consider. Otherwise, you might want to look at other brands that include a battery and charger with their nailers.
Or you will need to spend extra money to buy a Ryobi battery and charger.
---
FAQ
What can an 18 gauge nailer be used for?
An 18 gauge nailer can be used for a variety of tasks, including trim work, cabinet installation, and furniture assembly.
Can I use 16 gauge nails in an 18 gauge nail gun?
No, you cannot use 16 gauge nails in an 18 gauge nail gun. The nails are too thick and will not fit into the gun.
What is the difference between a brad nailer and a pin nailer?
A brad nailer uses slightly larger nails than a pin nailer and is typically used for heavier duty tasks. Pin nailers are better suited for delicate work, such as trim and molding.
How does an air compressor work?
An air compressor is a machine that uses pressure to compress air and store it in a tank. The compressed air can then be used to power tools like the Ryobi 18-Volt One+ AirStrike Pin Nailer.
What is the difference between a cordless and corded nail gun?
A cordless nail gun runs on batteries, while a corded nail gun must be plugged into an outlet. Cordless guns are more convenient but may require more frequent battery changes. Corded guns are always ready to use, but can be less maneuverable.
What are the safety features of the Ryobi 18-Volt One+ AirStrike Pin Nailer?
It has a trigger lock. However, an anti-jamming mechanism is not included.
Useful Video: Ryobi Airstrike 18V Pin Nailer Review
Final Thoughts
Now that we've gone over all the features of the Ryobi 18-Volt One+ AirStrike Pin Nailer, it's time to give our final thoughts.
Ryobi has done it again with another excellent product. We think this is an excellent tool for anyone who needs a pin nailer. It's lightweight and easy to use, and it has some great features that make it stand out from the competition. If you're looking for a pin nailer, we highly recommend the Ryobi 18-Volt One+ AirStrike Pin Nailer.
The Ryobi 18-Volt One+ AirStrike Pin Nailer is a great tool for a variety of tasks. It is cordless, making it more maneuverable than a corded nail gun. Additionally, it has a trigger lock, providing an extra level of safety. However, an anti-jamming feature would be a nice addition.
Do you own the Ryobi 18-Volt One+ AirStrike Pin Nailer? Let us know what you think of it in the comments below.
Thanks for reading!
---
References:
https://www.protoolreviews.com/tools/power/cordless/nail-guns/ryobi-18v-pin-nailer-p318-23-gauge-airstrike-incoming/34795/